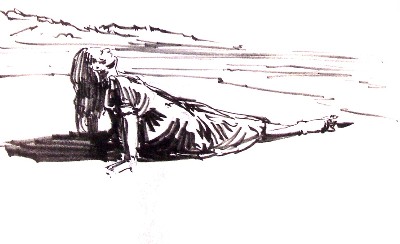 PEARL: NOTES ON DERIVATION, HISTORY, DEFINITIONS, MYTHS SOURCE MATERIAL, AND INFLUENCES:

WEB NOTE:

Like the entire Pearl Collection, The Pearl Website is an open-ended proposition. As new works are finished they will be added to the site. Most of the current oil paintings are included, the unfinished ones are noted as such. Incomplete works in other media have been omitted. As incomplete and new artwork are finished they will be added, filling the spare and empty categories.

The site is designed to be many things. First, it is a "Virtual Exhibition," fulfilling my long delayed desire to exhibit the entire collection. Second, it is a long over-due inventory of the collection, allowing me assay the strengths and weaknesses. It is also a record of my process, haphazard and chaotic as it is, for any interested party.

As a "Virtual Exhibition", I hope that the viewer will be confronted with many issues and comforted by some of the images. One early goal of this undertaking was offering suggestive narrative images, so that the viewer's interactive process of choosing the sequence implies a personally driven narrative. In reality, Pearl has no story – a rather recent revelation for me, but is rather a canvas for the projection of other people's chronicles.

As an inventory, it has been pleasantly surprising in the breath of expression and disappointing in the amount of finished work. This has almost been a ten-year project, sometimes on and sometimes off – compulsively on and depressingly off. (I have spent much of my time teaching, creating other paintings, and brooding.) The included statements and other documents are (beyond my conceit and vanity) meant to assist in unraveling my creative process and to give added dimension to the artwork. Most of the documentation is scattered, hidden in sketchbooks, journals, morning pages, and photo boxes. I have tried to gather some of it together and present it now; planning on doing more in the future. This web-site doesn't present the video interviews with the model / "Pearl."

Like the collection, the site is a compromise between subjective and objective, between personal and public, and between amateur and professional. I have tried to delicately reveal as much personal information that I felt would make the site interesting, and also tried to maintain a certain amount of public distance. As far as the artwork there are several pieces that are complete "fine presentation art," there are exploratory works that display a delicate understanding of the media and others that are raw and unflattering.

HOW "PEARL" AND I FIRST MET

I was visiting several friends who had moved to the New York area from Norfolk. Some of us had spent the day going to museums and were going to meet with others for dinner. I was told that a friend -- a woman from Norfolk, who would become "Pearl" -- of a friend was going to join us. After dinner, several of the New Yorkers said good night and wished us well as we had into the Village. "Pearl," three other women and I went toured the Piano Bars. At one of the earlier piano venues, "Pearl" ventured, "It was real fun at first, but now it's turned into Campfire Girls." It was true and went we looking for a more adventurous crowd.

At one lounge, we were met at the door by a waitress and ushered to a table directly in front of the piano player, an older, classic, black blues singer. For the rest of the night this chanteuse sang almost exclusively to our table. Memorably to and with "Pearl," "He might be your man, but…" We laughed and sang and played. Friend after friend said good-night, until it was just "Pearl" and me. Later that morning, as we walked around the village and rode subways we got to know each other. We said good-night and that should have been the last that I saw of her.

HOW "PEARL" BECAME MY MODEL

A week before my birthday, the telephone rang. It was "Pearl," she had been thinking about me being an artist and wanted to know if I thought that she could be an artist's model. I really didn't see a great future for her, but somewhat reluctantly agreed to a session on my birthday. At first I was disappointed, but then something happened. She transformed herself, presenting me with an array of characters.

One of my favorite stories is the myth of Marilyn Monroe's transformation. Supposedly Marilyn had a date in New York. As they were walking through Central Park, she noticed his disappointment. Asking what was wrong, he replied that he was just surprised that no one noticed them. She then said something like, "Oh, I'm not good enough for you! You want Marilyn!" She then pushed her shoulders back, her chest out, knocked her knees, and tossed her hair. Marilyn was there and the park descended upon them. This ability to transform oneself has always fascinated me, to see it was amazing. There have been times when I question who is the artist. Is "Pearl" the artist and I am the camera?

PEARLS:

I chose the name Pearl in memory of Janis Joplin.

It had some other meanings. A thought about that first session from a contemporary journal, "She hid behind her clothes, like an oyster in a shell. But when she let her guard down, she was a pearl. A pearl glowing and shining in the light of the February sun."

Another note from a morning page: "Her figure, round, swollen and full, protected her fragile frame and yet, rather than let the protection harden into a fortress, she makes it a zone – so that beauty can shine and the environment reflect. She is vulnerable everywhere, but her heart."

Once when lying in the jaws of a suntanning bed I thought. "I am the oyster, and she ("Pearl" images, ideas, and plans) is the irritation that I must lacquer with my thoughts."

HISTORIC REFERENCES:

"An early Christian tradition in the Greek world, that the pearl was the product of lightning striking into the sea and reaching the oyster, thus creating a union of fire and water, does not seem to have been current in the West until after Van Eyck's time."
-- John Cage, Color and Culture, Page 286 #3
Pearl (concha alba) in a poem, where Mary is referred to a crystal, amber, gold, purple (ostrmum), pearl (concha alba) and emerald.
--JC, c&c
Van Eyck's: Marriage of Giovannie Arolfino and Givannia Cerelli (sp)
Husband has a string of amber hanging from the mirror on his side of the painting and she, the bride, is wearing a double string of pearls.
"Pliny was far less circumstantial about pearls (IX __ liv, 107-9) although he retold a number of anecdotes about their prodigious value in the Roman world. He accepted the view that pearls are produced in oysters filled with a 'dewy pregnancy' and that their color depends on the complexion of the sky. Strong sunlight gives an unpleasant reddish tan; deep-sea pearls are the most brilliant because they are out of reach of the sun's rays.
The walls of the Heavenly New Jerusalem were traditionally thought to have been built with gems. (Square – emeralds), (ovals – sapphires) (round – pearls)
---
D A T E S n< /FONT> S I T E S
---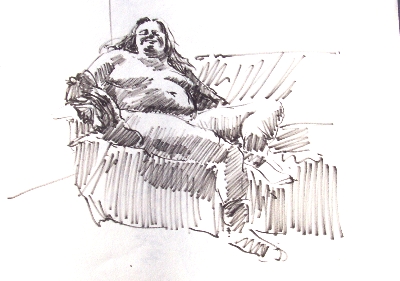 PEARL/TRANSFORMATION -- SITE HISTORY
1. JANUARY - Friday Group Room, Norfolk, VA - 98
2. FEBRUARY LIGHT - Lafayette River, Norfolk, VA - Feb 24, 1996
&nbsp&nbsp&nbspThis was the first session. 3. MARCH MADNESS - Jerricho Ditch, Dismal Swamp, VA - 97
4. APRIL CALM - Azalea Garden -97 (Video interview)
5. MAY - Azalea Garden, Norfolk, VA, Norfolk, VA - 96 (Video interview)
6. JUNE - JP's Point, Lynnehaven River, Viginia Beach, VA - 96
7. JULY FREEDOM - Nags Head, North Carolina - 96
8. AUGUST - Chincoteaque, Eastern Shore, VA - 98 (Video interview)
9. SEPTEMBER - York River, Peninsula, VA - 97 (Video interview)
10. OCTOBER - Maypop Hollow, Lawerenceville, VA - 2000
11.NOVEMBER - "Pearl's" House, Norfolk, VA - 1996
12. DECEMBER - Friday Group Room, Norfolk, VA -
(Note: These dates and arrangement need to be researched and confirmed)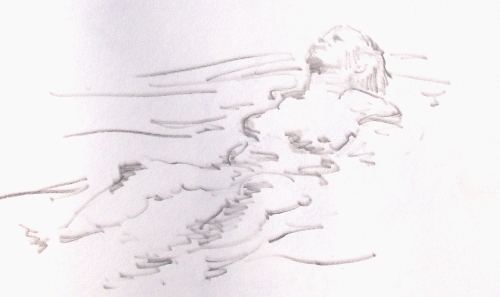 Friday Pearls (Pearls that were mainly Friday Model Group set-ups. Continuous untill 2001)
Pearl Moons (Poses bases on the various full moons throughout the year 2003-2004)
This should be called the "The Elusive Moon Series." Every full moon it was cloudy or the moon arrived earlier or later than the schedule said. Few sessions actually had a full moon; howerver, the motif or idea of the moon is still of importance to the paintings.
Jan. 7, 2004 -- Wolf Moon
Feb. 6, 2004 -- Snow Moon
Mar. 6, 2004 -- Worm Moon
Apr. 5, 2004 -- Pink Moon
May 4, 2004 -- Flower Moon
June 2, 2004 -- Strawberry Moon
July 2, 2004 -- Buck Moon
July 31 -- Sturgeon Moon
Aug. 29 -- Fruit/Barley Moon
Sept. 28 -- Harvest Moon
Oct. 27 -- Hunter's Moon
Nov. 26 -- Beaver Moon
Dec. 26 -- Cold Moon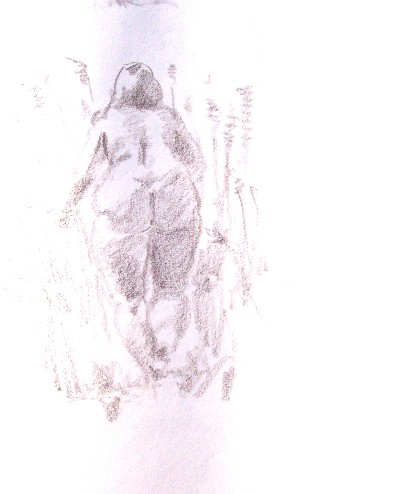 ---